Digital Full Colour NCR's are printed on our digital press. That means they can be printed in full process colour on both sides along with optional sequential numbering and drilling.
Pads are available in sets of 50 in 2 or 3 parts with board backing and white inserted/removable writing shield.
Digital Full Colour NCR Templates
Download a template for your design for the 'Downloads' tab on the Digital Full Colour NCR product pages.
Digital Full Colour NCR Pad Templates
Digital Full Colour NCR Set Templates
Sets are available in individual sets of 2 or 3 parts.
Paper sequence is only available in:
2 part - WHITE/YELLOW
3 part - WHITE/YELLOW/PINK
All parts are printed with the same artwork.
Glue edge
You can choose any edge to be glued.
To indicate which edge is to be glued, apply a 0.25 pt red line (process colour: 100M, 100Y) to the desired page edge over the normal black 0.25 pt border. This red line must not be set to overprint.
By default the template will have a red line at the top edge. This must be changed to your desired gluing edge.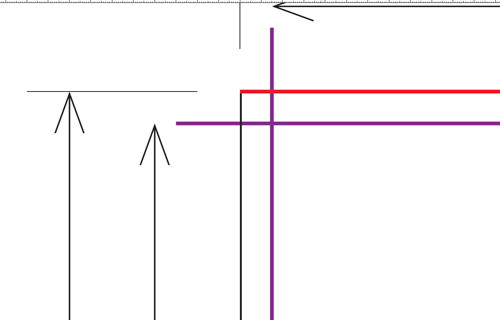 Sequential Numbering
The numbering is printed as variable data, which means you can specify any colour in CMYK, and any size in one position only.
The font needs to be Arial.
Starting number must be on the PDF in the exact colour, size and font. This number must be set to overprint. Do not convert the number to outlines.
Drilling
Two drill holes are available in 6mm diameter.
Centre radius may be between 10 mm and 65 mm from an adjacent straight edge.
If you need to have a hole drilled less than 10 mm from a straight edge, you may do so only if the position is 10–65 mm from another adjacent edge.
On the artwork, place a cross + of diameter 2 mm to indicate the drilling position, line thickness 0.5 pt, and of a colour that contrasts with the background.
Leave a clear zone of 5mm around each hole.
Ink coverage
Avoid designing with large areas of solid ink, a large area is defined as an area larger than 50 x 100mm.
If you are just using black, leave as 100% Black.
Tinted areas to be written on with more than 8% tint/shade value of colour may cause carbon transfer problems on duplicate copies. Keep tint/shaded areas between 5-8%.
Maximum recommended total ink level is 225%.
Printing on the reverse
i.e. terms/conditions etc, it is advised to tint/shade content to a maximum of 60% which reduces show-through on the front of document.